Copyright 2007
LandChoices -
All Rights Reserved

Sugar Creek Preserve
When was the last time you saw an undeveloped lake in a neighborhood?
Sugar Creek Preserve is a conservation subdivision designed by Randall Arendt to meet the conservation subdivision ordinance in Walworth County, Wisconsin, where LandChoices' Approved Conservation Subdivision Ordinance originated.

Approximately 177 acres of the 260 acre property, over 69% of the site, is permanently preserved as open space, including a lake, pond and stream, with a conservation easement with a local land conservancy. Homes are strategically placed for great views, privacy and maximum value. The 52 lots are the same number of lots that could have been built using conventional "cookie-cutter" subdivison design and range from 40,510 sq. ft. (.93 acres) to 187,448 SF (4.3 acres) with the average being 53,500 sq. ft. (1.3 acres). The proposed density yields 1 home site for every 5 acres of land. Go see it! Visit Sugar Creek Preserve and stay at the Golden Oaks Mansion.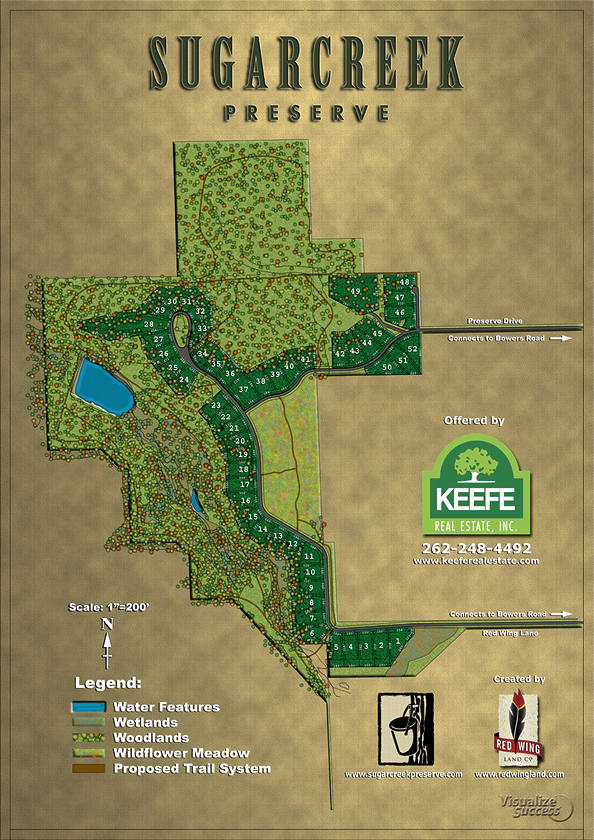 Originally zoned for 52, 5 acre house lots, the property was destined under conventional zoning to become filled with lawns, homes and streets.